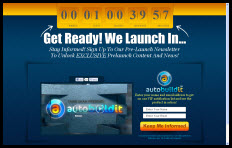 Rating:


Product Reviewed: Auto Build It
Trial Available: No
Creator: Tahir Shah
Product Type: Membership Service – Self-Hosted Solution
Click on the play button below to watch the Auto Build It video review.
Click Here to Visit Auto Build It
Are you an internet marketer or webmaster? Perhaps you aren't yet either but you would like to get started and up until now you haven't known what tools to use in order to create your websites? Maybe you do have websites on the internet but you would like to create new sites and pages even faster than before without compromising on quality?
Whatever the scenario you're in the right place. In this Auto Build It review I am going to give you a true insight into what this new website building software is all about, so you can decide for yourself if it's for you. Discover in this detailed consumer report, how it works and who should use it in their online business. If you would like to go straight to the website, you can do that by clicking here.
What Is Auto Build It?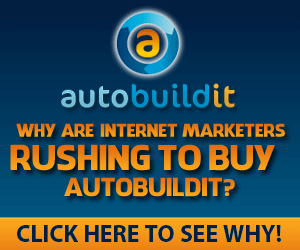 It's a brand new website building service that is being touted as the "WordPress Killer". Now that's a bold claim so in this report I am going to investigate whether or not it lives up to the hype.
Tahir Shah is the creator of this software and had it developed as a result of not being able to find a solution he needed himself. You see, Tahir needed to create certain kinds of pages and sites for his online business that he knew other internet marketers needed too.
The trouble was, he couldn't find one that did all of the things he wanted, so he had to outsource the work to his development team. Spotting this gap in the market, Tahir Shah decided to fund a development project that culminated in the creation of AutoBuildIt. Now this didn't happen overnight and it took 5 coders working around the clock for many months and a $250,000 dollar outlay to see it through to fruition.
The net result is a powerful website building software suite that is capable of creating virtually all kinds of sites and pages a webmaster or internet marketer would require. Moreover it's capable of doing all this with a few mouse clicks.
Tahir realized that most online entrepreneurs aren't actually technical and that's a common stumbling block for many people that want to succeed online. With this in mind he was determined that Auto Build It would be a solution that didn't necessitate knowledge of HTML or how to FTP files onto the world wide web. With this self-hosted solution all of this is done automatically for you, so all you have to focus on is adding the necessary content to your site and activating it so it goes live on the internet.
Click Here to Visit Auto Build It
So What Kind Of Sites and Pages Can Auto Build It Create?
Naturally as a webmaster and internet marketer, you'll want to know what this thing can do. That's the first question I asked too when I heard about it. Auto Build It can be used to create:
Static Pages
One Click Home Page
Pre-Launch Pages
Squeeze Pages
Video Squeeze Pages
Video Sales Pages
Sales Pages
Thank You Pages
OTO Pages
Download Pages
Affiliate Pages
Modal Exit Pops
Modal OnLoad Pops
OnLoad Facebook Traffic Pops
Membership Module
Authority Sites
Yes, you can even use Auto Build it to create full blown and professional authority content sites and it does it all using a dashboard panel which you will see when you login to the members area. From there you click on the relevant icon for the kind of site or page you want to build and follow the steps to create and publish it.
Who Is This Service For?
After going through this myself personally, this service is going to be highly valuable to different kinds of marketers and webmasters for different reasons, which I will detail below.
Absolute Beginners ( both webmasters and internet marketers ) – If you've ever struggled to get going by putting a website live on the internet or got stuck creating it in the first place, Auto Build It will make it "point and click" simple for you to get your site live and it will look professional as well. You won't need to worry about technical stuff such as uploading files or learning HTML. This is essential if you want to make a good impression, increase conversions and brand your online business.
Intermediate Marketers – At this level you'll already know how to put a website together and you'll be technical enough to make simple changes by yourself, but you can use Auto Build It to create professional sites and pages even more quickly. You'll be able to build your authority content sites and even do full product launches using this platform ( Auto Build It launch was run using their own software ).
Advanced Internet Marketers - At this level you appreciate that time is money and that making an investment in your business that will save you time is something worth doing. If you want to make quick changes to your sites or pages without an outsourcing team, you can login to Auto Build It and do it in seconds. Auto Build it is perfect for product launches, pre-launch squeeze pages and video/long form salesletters.
 "Auto Build It is a website building software suite that has been built by
an internet marketer for internet marketers and webmasters. It allows you
to create professional sites and pages using a centralized control panel which is icon driven and publish them to the internet in a matter of seconds"
Click Here to Visit Auto Build It
Membership Options
At the time of writing there are 3 membership options for members of Auto Build It. All of these options include hosting and unlimited emails.
Starter – $47/Month
The starter package gives you 1 website + full features, unlimited page creation, pre-made graphics/templates and the ability to create membership sites with affiliate management.
Entrepreneur – $67/Month ( Recommended Option )
The Entrepreneur package includes everything in the starter package and 3 sites with full features. This affords you the flexibility to run multiple projects/sites and make each site different.
Mogul – $97/Month ( currently 60% off )
This is for internet marketers and webmasters that need a package that will allow them to run up to 5 websites simultaneously. At the moment this is great value because it has 60% off the regular price.  
Pros
No Technical Skills Required - Auto Build it makes things as simple as possible by taking care of the technical stuff. You don't need to know how to code or use FTP software.

Build Sites and Pages Quickly – Want a squeeze page? Just click the icon and follow the steps? How about changing the template or color of your site? Changes like this can be done in seconds. Want a video salesletter? Click the icon and away you go. Authority websites your kind of thing? All of these can be created with AutoBuildIt.

Self Hosted Solution – When you become a member, the hosting of your site and pages is taken care of automatically. You won't need to find a webhost or go through the ordeal of working out how cpanel works.

Tutorial Videos - The interface itself is intuitive and easy to follow, but if you get stuck at any point, just watch the relevant video tutorial for that step.

Social Comments (optional) – People can interact with your site by adding comments. This incorporates an element which can be very useful for social proof.

Save On Outsourcing Costs - Auto Build It makes it so easy to make changes to your site that you can do it yourself without having to outsource the work which costs you both time and money (particularly with simple changes that can be done in seconds).

Ideal For Product Launches - Got a product you want to launch and sell? Auto Build It can be used right from the pre-launch to launch phases and it can create all the pages you require, right from pre-squeeze to salesletter, one time offer and affiliate pages. 

Become An Authority Site Owner – Using this service you can create massive authority content sites, which will set you up as an expert in your chosen niche. This service isn't just for internet marketers, it's for niche marketers and webmasters too!

Package Options Up to 5 Websites – Depending on which package option you choose, you can have up to 5 websites in your Auto Build It membership, which is great for the majority of marketers and webmasters. 
Cons
Ongoing Monthly Subscription - Because Auto Build It is a self-hosted solution, there will be a monthly subscription cost for using the service. However, that's not such a bad thing because you would have to pay for a webhost anyway and this integrates everything you need into one convenient package. 

Membership May Be Capped - At the time of writing I am not sure how many members Tahir is going to allow in to use this software. Obviously there will be a limit to the number of members he can allow in so at some point I am guessing he will have to close the doors to take care of existing members.

You Still Need Traffic - Auto Build it will create the kinds of websites and pages you've always dreamt about and they are professional, but you will still need to drive traffic(visitors) to your sites and pages. That's where my bonus comes in. Anyone ordering the service through my site will get a special bonus package that will help you get traffic to your websites.
Auto Build It Review – Conclusion
This service takes away the stress and worry of having to do all the technical stuff you usually have to do ( or pay someone to do ) in order to get a new site and pages on that site live on the internet. Using Auto Build It, internet marketers and webmasters alike can now focus on creating the types of sites and pages they need, reassured that whatever they create using Auto Build It is going to look professional and will create a good impression with their customers and any prospects visiting their site.
With its wide array of options, you can now create everything from authority content sites to squeeze pages and salesletters using just one service. In the past you would need to buy different products to achieve this goal and would require knowledge of more technical aspects to make your online business a reality. Auto Build It cuts out the learning curve so you can focus on making money and driving traffic to your web properties online. This service is suitable for all levels of webmasters and internet marketers, right from your rookie beginner to advanced level. There is something here for practically everyone.
The package I would recommend is the Entrepreneur option because it is very affordable at just $67 a month and for just $20 more than the Starter package (per month) you can have 3 websites with full features, hosting and unlimited emails. As your business expands, this package will accomodate your needs.
Click Here to Visit Auto Build It
Order Now And You Will Receive the Following
Mega Auto Build It Bonus Package That Is
The Best On The Internet
Fast Action Bonus #1 – $10 Amazon Gift Card


I am limiting this bonus to the first 10 people to purchase Auto Build It through my link. It's my way of saying thanks to you. You will get a $10 Amazon Gift Card that you can spend on any item ( or towards any item

) you want within this online store[1].
Fast Action Bonus #2 – 60 Day 1-On-1 E-Mail Coaching  
Again, I am limiting this Auto Build It Bonus to the first 10 action takers to claim my special bonus package. There's not much chance anyone else out there is offering this. What you will get is 60 day access to me via email to answer any questions you may have. This is a killer bonus, especially if you get stuck on anything.
Bonus #3: Niche Profit Machine Ebook and Audio  
Bonus #4: Hubpages and Squidoo Traffic Trick
Bonus #5: Article Marketing Simplified
Bonus #6: My Facebook Formula
To Claim This Monster Auto Build It Bonus Package Follow These Easy Steps:
STEP 1 – Go to your internet browsers settings and select 'Delete Cookies' – Please do not worry, it won't delete your saved passwords or website history – It just removes the other guys trackings codes so you qualify for this awesome bonus.
STEP 2 – Join Auto Build It at THIS LINK.
STEP 3 – Please forward your Clickbank receipt number at
my "Contact" page:
Click Here to Send Me Your Purchase Receipt
With this subject: My Auto Build It Bonus Package
STEP 4 – Wait for my reply. I'll get back to you within 24 hours with your bonus.
Thanks,
Dean James
[1] – Fast Action Bonus #2 is redeemable and will be given after 60 day
refund period.