Rating:


Product Reviewed: Magic Article Rewriter
Creator: Alexander Krulik
Product Type: Software – One Time Payment
We all know how powerful articles can be in driving traffic to our websites, getting rankings and backlinks. However, these days, doing standard submissions don't carry the same weight they once did as you would be effectively submitting duplicate content to each of the directories. There's a much smarter way to do things and that's what I am going to talk to you about in this Magic Article Rewriter review.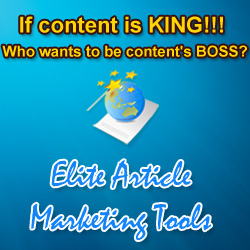 If you're looking for the website, you can visit it by clicking here. In this report I am going to cover how this software works, how easy it is to use and whether it will actually work for you.  I am also going to cover Magic Article Submitter which has also been created by whizz programmer Alexander Krulik.
So why am I writing this review of Magic Article Rewriter? Well, it's because I am seeing so many people involved in article marketing as part of their online business strategy, but they aren't doing all the things they could be doing and because of this, they aren't getting the results they had been hoping for. I also bought this software, so I am speaking first-hand about how it works and how it is best used.
Click Here to Visit Magic Article Rewriter
What Is Magic Article Rewriter?
Put simply, it's a software tool that you download to your desktop, which you can then use to rewrite and spin articles as little or as much as you like. Rather than doing everything manually, this dramatically speeds up the process of creating unique content by re-working an article. Once you are finished you can then create as many unique versions of the original seed article as you like.
At the heart of Magic Article Rewriter is a database which consists of over 30,000 words and their synonyms. You can also add to this as you go along and use them in future articles.
If you are looking for keywords to write articles about and goldmine niches, then be sure to read my Niche Reaper review which tells you all about a membership where you receive all of this automatically from a huge database.
What Can You Do With These Articles?
Once you have finished re-writing your article, you can submit them to as many article directories as you like, which will in turn drive traffic to your site and get you backlinks to your site with anchor text that you have control over. That's not all though, you can also use these articles to create Squidoo Lenses, Blogger Blogs and anywhere else you want to syndicate your content.
So How Does Magic Article Rewriter Work In Practice?
The beauty and elegance of this software lies in its simplicity. It really is easy to use and within 10-15 minutes you'll be up and running. It's really intuitive to use, which is a good thing because I personally can't stand over-complicated software that is too technical to wade through. I haven't got the patience to read a 300 page manual in order to get a task done. Thankfully Magic Article Rewriter is really easy to get grips with.  How easy? Check out the video at the top of this review to see for yourself.
These are the simple steps you need to follow:
Step #1: Copy and paste your seed article into Magic Article Rewriter. You can also write it yourself from scratch in the editing window. It's a lot like notepad, which I like because it isn't clunky to use and doesn't take up much processing power so your computer won't slow down.
Step #2: Open the synonyms box and select the words that you want to re-write and spin. This is where it gets clever because you only choose the words that you want which actually make sense. This means your article will still read properly no matter how many unique versions are spun.
Step #3: Highlight and rewrite entire sentences. The third step is what makes Magic Article Rewriter so much more powerful than conventional spinning software that just replaces synonyms and that's all. With recent search engine updates and future ones being rolled out, you should be doing more than just replacing synonyms when you are re-writing your articles.
Step #4: You decide how many unique versions of your seed article you want and then sit back as the software spins them and stores them in a folder on your hard drive.
So Does Magic Article Rewriter Really Work?
By following the above steps, you can create truly unique versions of any article you want and you can do it quickly as well with this software. As you will be rewriting sentences, the software is capable of automatically swapping them out randomly to create unique articles which still read perfectly to any human. That's because you are actually creating quality content, which is what the search engines want. So yes, it really works.
This software also makes use of something called tokens, which you can optionally use. Basically the way this works is that when you replace a word with synonyms, you can group all the easy words with tokens that are replaced by the synonyms you have hand-picked. So, for example, the word "pressure" could have synonyms, "weight", "strain" and "burden" all assigned to a token. It may sound confusing but once you start using it, in practice it's straightforward and saves time. 
Magic Article Submitter
Alexander Krulik has also created another piece of software that really compliments Magic Article Rewriter. It really makes sense that he did this as well. What's the one thing you want to do with your unique articles once you have re-written your original seed article? You want to submit them to article directories of course!
This is where Magic Article Submitter comes to the rescue. What it does is sign you up to around 700 directories automatically.
Update: A couple of months ago I received an update from Alexander Krulik advising he had updated Magic Article Submitter and added many new directories to take the database over the 1000 directories level. Here's the intro to that email….  
—– Original Message —–

From: Alexandr Krulik

Sent: Tuesday, February 15, 2011 8:00 PM

Subject: Magic Article Submitter 1.6.0 Released!
Dear valued customer!

I have updated Magic Article Submitter.
The biggest change here is that I have completely reviewed
all article directories in MAS list and cleaned it and added many new article directories.

So in v 1.6.0 you will see 1000+ article directories that are working and you will be able to submit there.
You just fill in a profile and let the software take care of the rest. When I used it I had to run it through a few times to get the count up really high on the registered directories, but once you've done that you are all set for future submissions. There's a cool video on the website which shows this in action that you can watch by clicking here.
The neat thing about the article submitter is that it has been programmed by Alexander Krulik so it works seamlessly with the Magic Article Rewriter. You simply add the spun version of your article, enter a keyword to choose categories and submit. The submitter software than sends out unique versions of your article to the directories you've registered with.
Now obviously you don't want hundreds of copies of your article all being blasted out in one day, that won't look natural, so what I recommend you do is limit the number being submitted on a daily basis so your articles are syndicated in a scheduled way. You can set this up to distribute automatically using the Magic Article submitter software, so there's nothing to worry about there.
It goes without saying that many of those 1,000 article directories that MAS submits to aren't going to be that great when it comes to quality. However, it makes up for it to a certain degree in sheer volume and because those articles are rewritten, when they are indexed you will get backlinks.
Traffic Tip: When we are talking about direct traffic from your syndicated content, you want to be submitting the unique versions of your articles to the top tier directories.
Package Details
In total there are 3 package options available which are as follows:
Magic Article Rewriter – When you order you get the software which will enable you to create unique versions of as many articles as you want. You download it onto your computer and use it locally on your desktop. The usual price is $77 but it's currently on offer at $47 until 275 spots are taken.
There are also $425 worth of bonuses including how to make $150 a day with article marketing, 27,000 Private Label Articles, a Keywords Killer list, Affiliate Marketing Handbook and a 48 hour Affiliate Action Plan.
Click Here for Magic Article Rewriter
Magic Article Submitter – When you order you get the software which will submit unique versions of your seed article to 700 article directories. It costs $55 one-time payment.
Click Here for Magic Article Submitter
Magic Article Rewriter & Magic Article Submitter Combo - For a limited time there is also the option to purchase both of these software programs for $80 which is a $22 saving over what it would cost you to purchase these programs separately.
Click Here for Magic Article Rewriter and Magic Article Submitter
Magic Article Rewriter Review – Conclusion
If you are looking for an article spinner and rewriter with powerful built-in functions that are easy to use, which create quality content, unique versions of articles that are readable to humans, then you don't need to look any further than this software which I highly recommend.
There are 3 package options available. Since Magic Article Submitter compliments the rewriter program so well, I recommend the combination package as it will alllow you to submit your articles to hundreds of directories for traffic and backlinks. This is the one I purchased and at only $80 it's a snip for what you are getting as it's a one-time payment. If you don't need the article submitter, then just get Magic Article Rewriter for spinning out unique content. I bought both of them together as a package because it saves you $22 by doing things this way and just makes good sense as an investment.
Click Here to Visit Magic Article Rewriter
Order Now And You Will Receive the Following Bonus That Shows You How To
Get Massive FREE Traffic With Articles!
 

The #1 critical component of a profitable article marketing strategy and how to exploit directories for INSTANT and UNLIMITED traffic!
How to get quality 'clicks' to your author's resource box by including this ONE powerful component!
The fastest way to total niche domination using the power of optimized articles!
The truth about "duplicate content" and how you can save time and money with this one powerful strategy that works instantly!
How to instantly monetize your article campaigns to generate maximum profits!
To Claim Your Bonus Follow These Easy Steps:
STEP 1 – Purchase your copy of Magic Article Rewriter at THIS LINK.
STEP 2 – Please forward your Clickbank receipt number at
my "Contact" page:
Click Here to Send Me Your Purchase Receipt
With this subject: My Magic Article Rewriter Bonus
STEP 3 – Wait for my reply. I'll get back to you within 24 hours with your bonus.
Thanks,
Dean James